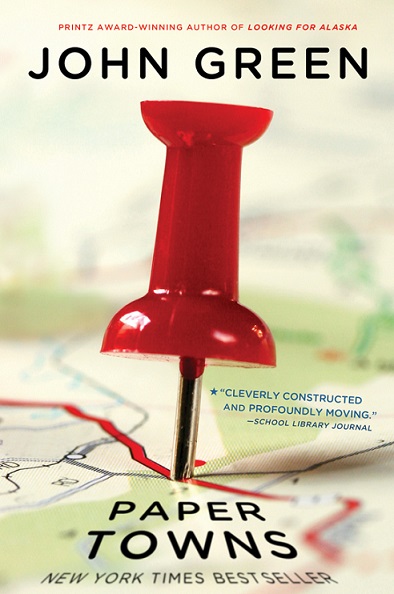 The citizens of Orlando, Florida are more than fine with their routine-filled life, managing between family and careers without stopping and really wondering what could their life be if they stepped out of the ordinary. Everyone, except for Margo Roth Spiegelman. In fact, Margo Roth Spiegelman is a girl who, a few months before her graduation from the Jefferson High, decides she has had it in this paper town filled with paper people living their paper lives. She is better that this.
Margo Roth Spiegelman is known for her expertise in scheming and pranks but people are left in awe by her next and final stunt in Orlando before she disappears and for that she needs a helping hand from a next door neighbor, a boy who she grew up but fell apart with somewhere along the school years. Quentin, whom she always viewed as a shy boring boy, is hopelessly in love with Margo. As Margo leaves town, Q decides to prove her wrong by figuring out the clues she has left and, against all odds, find her.
What seems like a shallow teen story turns out to be a complicated mix of feelings, poetry, adventures and psychological games. Readers are offered to follow the quest of Quentin in hopes of bringing back the girl of his dreams. Along the way, however, Quentin finds out more about himself than he could have ever imagined.
Despite the sort of clichéd 80s movie, nerd/popular kids' camaraderie theme that shows up in this story, Green never lets his story turn too obvious or predictable. It keeps the reader guessing! The story is an absolute thrill and if you fancy a good humor, John Green manages to deliver this in witty dialogues, somewhat sarcastic remarks and heart-warming tale of friendship, loyalty and caring.
John Green is an American author of young adult fiction. He won the 2006 Printz Award for his debut novel "Looking For Alaska". "Paper towns" is the author's third book which won 2009 Edgar Award for the best young adult book. On March 24, 2014, Green announced "Paper towns" will be a motion picture after Fox 2000 bought the rights.
***
New York: Dutton Books, 2008 – Check from the e-catalogue ESTER
New York: Speak, 2012 – Check from the e-catalogue ESTER
Check from e-library OverDrive.


Erika Piirmets
Department of Literature in Foreign Languages