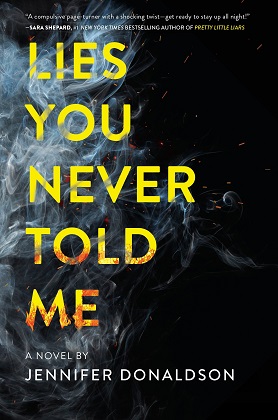 Secrets are kept. Lies are told. How far can you get with those?
The book swallows reader into the lives of four main characters, all trying to create lives they think they deserve. Stories are told from the point of view of Elyse and Gabe, two teenagers that find themselves in unexpected situations. Experiences of two lives are told parallelly, seemingly not influencing each other, but always keeping the tension up. Somehow they struggle with very similar issues.
Elyse has to keep up with her studies while keeping her mom sober and taking care of the household. She has a great connection with her best friend, but is unable to share everything with her, even if she wanted to. Gabe is stuck between his obsessive girlfriend and two best friends that don´t get along with her. This creates a lot of tensions and he´s not sure where goes the line between his own thoughts and wishes and hers.
If you decide to read the book, keep in mind that once you have it in your hands, it´s difficult to put down. I really enjoyed the writing style and vocabulary the author decided to used, it makes the whole reading experience smooth and easy. The tempo of events occurring in the characters´ lives is rather fast, which is good as the topics are lively and serious. At the same time light humor between friends and passionate kisses between lovers are also part of the book.
***
Penguin Putnam Inc, 2019
Check from the e-catalogue ESTER
Mari-Liis Mägi
Kännukuke branch library