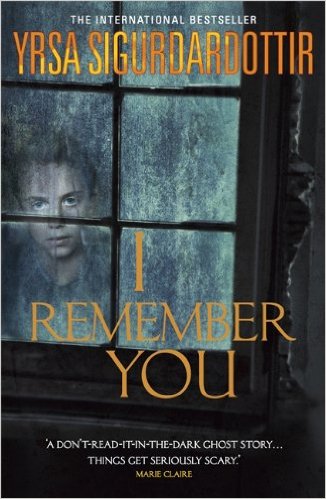 It has been a dream of mine for many years to withdraw into the woods of Konguta parish near Karijärve lake to restore the century-old farmstead my paternal grandfather acquired as a summer residence for his growing family. These romantic daydreams were decisively snuffed out after reading I Remember You, written by the Icelandic queen bee crime novelist Yrsa Sigurðardóttir. No, the plot did not revolve around the monumental cost and effort of renovating and maintaining old buildings that have been left to rot for decades. Rather, Yrsa's parallel story-line made the thought of living, working, and sleeping in a secluded homestead unbearable in the wake of the most chilling ghost story this seasoned horror aficionado has read in a long while.
Three young city slickers and their decidedly hardier puppy set out to the harsh Icelandic West Fjords with high hopes and meager supplies of refurbishing a derelict house into a Bed & Breakfast destination. Across the sweeping fjord a middle-aged psychiatrist is unwillingly but inevitably beginning to connect the dots between various nasty occurrences that surprisingly reference back to his own traumatic loss a few years ago. Frequent cups of coffee seem to be one of the few ways to loosen the tongues of a cast of northern characters. Thus Freyr, the doctor, reluctantly collects hints and clues that slowly drizzle from the mouths of his patients while stubbornly avoiding his ex-wife's insistence to re-examine the circumstances of their son's unexplained disappearance. Meanwhile, Katrín, Garðar, and Líf are aimlessly puttering around their house in Hesteyri and just as adamantly rationalizing the ever-growing feeling of empty dread brought on by flitting shadows, pools of salt water, menacing giggles, and vile smells emanating from the very cracks they are trying to mend. Like a loose braid that weaves into a tightly-woven fish-bone, the two parallel story-lines cumulate to unveil the capacity for human cruelty and neglect so base, the supernatural aspect of the story seems almost tame. Almost, but not enough to suspend belief.
The syntax and vocabulary of this translation will not go down in the annals of greatness but Yrsa evokes a compelling atmosphere both of the Icelandic outdoors as well as the strangely looming indoor settings. If not previously familiar with Nordic Noir, the reader will get a crash-course in reading and differentiating between the myriad selection of blank expressions speaking volumes in the faces of its characters. This novel is a sturdy stand-alone in Yrsa Sigurðardóttir's series of crime novels (also sprinkled with a fine dust of the supernatural) starring the lawyer heroine you'd want on your side any day, ​Þóra Guðmundsdóttir.
If a book cover boasts by-lines such as "…not to be read alone after dark…" I usually laugh out loud and proceed to do just that. My laugh petered out to a smirk at the end of chapter two and then formed a tight lump of dread that still resurfaces every time I am drawn back to re-reading this excellent supernatural turn-screw.
***
London: Hodder, 2013

Check from the e-catalogue ESTER
Kadri Rebane
Department of Literature in Foreign Languages