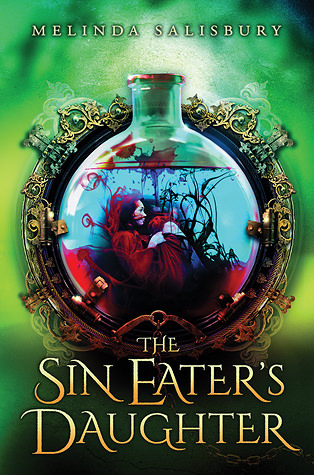 The Sin Eater's Daughter combines a fascinating fantasy world filled with unique mythologies, unpredictable twist and a heroine whose only touch brings death. This is the first book of future series.
Seventeen-year-old Twylla is part of the royal court of Lormere where she serves as the Daunen Embodied, a role believed to be appointed by Gods. Her touch is poisonous. Her single touch, one fleeting brush against her skin will bring death to anyone except the members of the royal family. She is the Queen's weapon, the executioner. Each month, she's taken to the prison and forced to lay her hands on those accused of treason.
A traditional love triangle between Twylla, the prince, and Twylla's new guard creates emotional tension. Twylla is betrothed to the Queens son whom she has met only a few times some years ago. She leads a lonely and solitary life. No one wants to spend time in the company of a girl with murder in her veins.
But then a new guard arrives and sees the girl within and is not afraid of her nor her deadly gift. The temptation her new guard brings to Twylla's heart is natural.
And as will be expected, the Prince returns to the royal court and seeks out Twylla as his future bride. Twylla is surprised at the attentions the young Prince begins to lavish upon her.
One of my favorite aspects of this story was learning about the mythology behind Daunen, and what it really means to be Daunen Embodied. The prison cellar with strange rituals is scary, but realistic. The Queen is mad, vicious, but convincing.
Through some dark twists and deeds by the Queen, Twylla has to stand up to the challenges she faces.
All those components together, and Twylla making a strong heroine in the end, make an enjoyable read with unexpected twists and a fabulous ending.
***
London: Scholastic, 2015
Check from the e-catalogue ESTER
Eha Elmi
Department of Literature in Foreign Languages