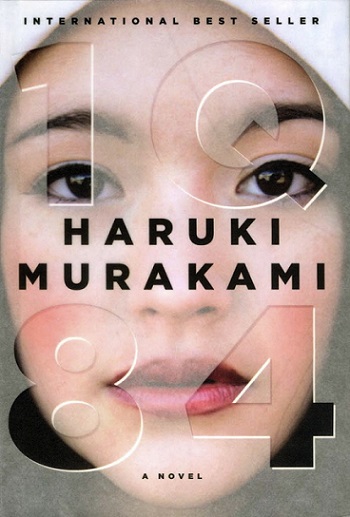 It would be an understatement to say that this literary work is one of my favourite books of all time (and by Murakami). Before picking up the book I was quite hesitant and having read a few short novels by the Japanese author I didn´t know what to expect. "1Q84" is a massive body of intertwined character chapters that span three whole books (or depending from the edition, a single volume). The sheer amount and weight of the book felt overwhelming. But once I started the first chapter, it was hard to stop reading the following.

The title refers to the year 1984, and as is characteristic to Murakami, entails a wide variety of symbolism and mystery.  The book gradually builds up its storyline from scratch. At first we get to know the everyday lives of two grown-ups Aomame and Tengo. Then by the end of each chapter (narrated by one of the two previously mentioned) a new thought or culmination of events is begun, making the reading experience much more enjoyable (and thrilling). Different kinds of situations and revelations create a special kind of unfamiliar tension (inherent to Murakami's writing style) that haunts the reader throughout the book. How are the worlds of 1984 and 1Q84 different from each other. What happened to the Moon in the sky? Who are the little men and what is their objective?

The fact is that the two worlds are on a colliding course and so seem to Aomame and Tengo.
***
Check from the e-catalogue ESTER:
New York : Alfred A. Knopf, 2011
New York : Vintage International, 2013

Birgit Kirsipuu
Sääse branch library