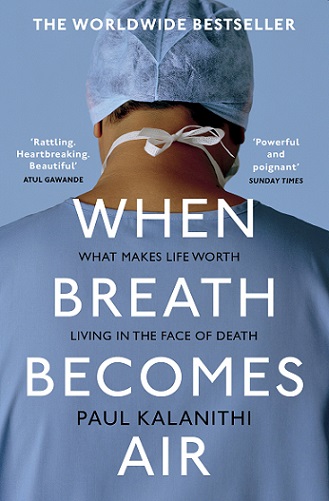 October, and the autumn in general, is probably the most fitting month to be reading "When Breath Becomes Air" – Paul Kalanithi's first and last novel. Were we to peek outside during this time of year, we'd notice the withering foliage, as it is slowly changing color from a fresh, young green to a more muted, yet rich, selection of oranges, reds and browns. The pleasant show of varying hues could be seen as a metaphore of the refinement of character we ourselves display, as we mature over the years. As the season, which is rather aptly named 'The Fall' in North America, progresses, so will the changes in our surrounding foliage. The leaves will dry, fall to the ground and be soon crumbled into dust under our feet. Strolling along, we might, in a moment of contemplation, ponder our own mortality.
The inherently human quest for the meaning of life, especially when facing its imminent end, is the central thread that runs through Paul Kalanithi's novel. The thin thread deliberately binds together many dichotomies that form the meat and the bones of the story – just as Dr. Kalanithi, with his medically trained hands, precisely bound together many of his neurosurgery patients. The reader will journey through this remarkable man's life, as he weighs his love for literature against his passion towards medicine, balances gruelling study and work schedules with maintaining a personal life, and, on the cusp of it all, tries to understand what makes a life meaningful.
In his book, Dr. Kalanithi is holding up a mirror to consider his past and present, knowing that the future is out of reach. In his reflection, we get a glimpse of ourselves. We sneak a look into the parts within our minds that we may yet be too afraid to openly confront. We start to wonder about the worth and (meaning)fullness of our own lives.
Paul Kalanithi left us without a direct goodbye. The swift end did not allow him to finish his book. However, we are guided further with the words of his widow, Lucy Kalanithi:
"For much of his life, Paul wondered about death – and whether he could face it with integrity. In the end, the answer was yes. I was his wife and a witness."
As a doctor, Paul Kalanithi was often the source of new life force to his patients – almost like the sun that warms and wakes up slumbering nature. He shone bright – perhaps a little too bright to keep burning on. Luckily for us, we are left with his memories and thoughts, posthumously published as this novel.
***
Vintage Books, 2017
Check from the e-catalogue ESTER
Check from the OverDrive digital library
Kristel Palk
Head of the Department of Literature in Foreign Languages

---