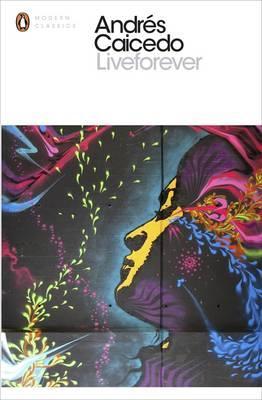 Andrés Caicedo's novel "Liveforever" is a kind of "all-inclusive" tour to Colombia of the seventies. It describes the local underground dance music scene and the destiny of a young girl called María del Carmen Huerta. María is fed up with her respectable middle-class life, so she decides to follow her passion for dancing across Cali, the party capital of Colombia. One can come across her at concerts in shanty towns, at parties in car parks, everywhere, where music is on. Dancing rumbas is the meaning of her life.
As the cover photo indicates, this novel is strongly influenced by psychedelia. The characters of the story live forever in a moment. They have all the symptoms of their generation. It goes without saying that drugs, sex and violence against gringos is a part of their everyday life.
Andrés Caicedo's novel is a celebration of the power of music and dancing, but it is also a sad story about children without childhood, about fanaticism and hedonism, about wasted years and destroyed lives.
***
Penguin Books, 2014
Translated from the Spanish by Frank Wynne
Check from the e-catalogue ESTER
Kadi Eslon
Department of Literature in Foreign Languages