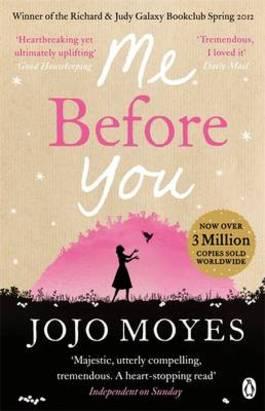 Cheerful and bubbly Louisa lives an ordinary life until she unexpedly loses her job at the local cafe. After a few failed attempts, she gets a job as a caretaker of a quadriplectic young man Will. At first Will is bitter and resentful but in time he warms up to Louisa. When she accidentally overhears Will's parents discussion about Wills' wish of assisted suiside, Louisa makes her mission to show Will that life is worth living and over time Will and Louisa grow closer. Louisa wants Will to live but it is Will who wants Louisa to live her life to the fullest.
This book is full of hope and fear, as it takes up heavy subjects. The scale of emotions go up and down like a rollercoaster, from laughing to crying and laughing again.
Personally I can not say that I loved this book, but I loved the characters so my emotions are quite mixed up. Before I started reading I had a vague idea about the book, but the biggest surprise for me that there was laughter. In conclusion I can say this book definitely left a mark and still over time makes me think and be grateful for life itself. Maybe it is enough.
***
Penguin Books, 2012
Check from the e-catalogue ESTER
Check from the OverDrive digital library
Karin Raud
Department of Literature in Foreign Languages