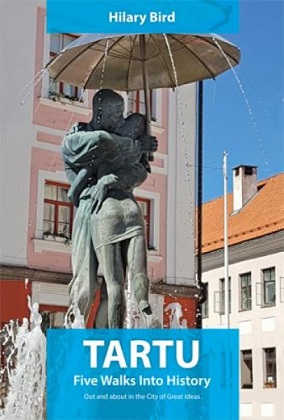 I recomend a book about Estonian second large city Tartu (about 18o km from Tallinn). This book is written by Hilary Bird, who was born and grew up in Bristol in the familly of a refugee from Estonia and now lives in Tartu. There is an introducion to the history of Tartu and six walks trough Tartu and every walk has a map and photos as well. If you are in lack of time, it`s best to start with first chapter – a walk in the old town. All this walk is on a level – so no need climb. Walk starts in Town Hall Square and ends there as well.
Other walks include Toomemägi, over Emajõgi river, commercial Tartu and Vanemuise "Street of culture". The last tour is about cemeteries, memorials and National Archives.
The benefit is an index at the end of the book in two languages – Estonian and English, so you can easily find a place or person in this book.
Tartu is called a City of Great Ideas. So is good idea to visit it and find out some interesting places, mentioned in this book.
It takes about two hours by car or train to get to Tartu and discover this super University city!
***
Hilary Bird, 2019
Check from the e-catalogue ESTER
Katrin Antonenko
Department of Literature in Foreign Languages