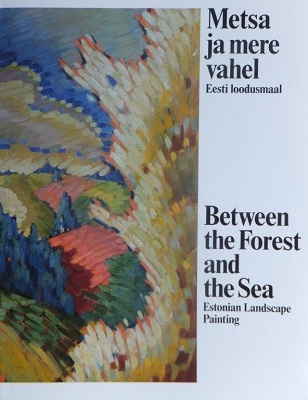 This great art album provides an insight into Estonian landscape painting. It is based on the exhibition "Metsa ja mere vahel. Eesti loodusmaal / Between the Forest and the Sea. Estonian Landscape Painting", which was displayed at the Tartu Art Museum 28.06.2013–12.01.2014.
The paintings have been grouped according to motif. One can admire Estonian forests and meadows, bogs, lakes and river landscapes, coastal areas and sea seen through the eyes of Estonian painters. Works of art may differ in treatment and style, but they all reflect the deep feeling for nature. It doesn't come as a surprise that many landscape painters have been passionate fishermen and nature wanderers.
The variety of Estonian landscapes is really amazing. The catalogue offers rare sights. One can admire for example "Lake Pühajärv" by Villem Ormisson, "Light of the Rain" by Tiit Pääsuke, "Motif of Kodavere" by Imat Suumann, "Lake Kaali" by Varmo Pirk, "Sea Kale" by Konrad Mägi, "Heather" by Toomas Vint, "Canebrake" by Olga Terri, "Sea" by Henn Roode, "Reflection of the Dark Sky" by Aili Vint, "Forest Landscape" by Hugo Lepik, "Ferns" by Valdur Ohakas, "Elva Forest" by Eduard Kutsar, etc.
I would highly recommend this book to everyone who is interested in art and nature.
***
Catalogue compilers: Reeli Kõiv, Tõnis Tatar
Tartu Art Museum, 2013
Parallel texts in Estonian and in English
Translation into English: Kersti Unt
Check from the e-catalogue ESTER
Kadi Eslon
Department of Literature in Foreign Languages