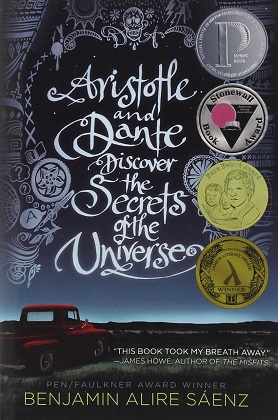 This was the most random book I´ve ever picked up. Usually the books I borrow from the library are from my TBR list or from some challenge. This I picked up because I was out of audiobooks and it was one of two young-adult audiobooks in my librarys OverDrive. As this had a higher rating I just started listening to it having no idea what I was getting into. Oh and Im usually listening to audiobooks like Illuminae series or something from Sarah J. Maas so imagine my shock that an audiobook doesn´t have to be over 20h long, it was 7,5h!!!

And boy how happy I am!
I must've looked like a lunatic listening to this. I usually clean or do garden work while listening to audiobooks and with this book I found myself talking back to the characters, laughing out loud and of course jumping up-and-down in the end. Why am I telling this? Because this to me is a perfect indicator how well the characters were developed and written. I felt their every emotion and could relate to them even though having nothing in common.

Parents who are actually there!!
Getting to know and communicating with parents was a big part of this book. And although I understand that parents tend to disappear in YA books usually when they are there its like a forced way of teaching a lesson. This book showed the pain and growth of a family. Not everything was perfect but it was all work in progress. As it always is in life. The portrayal of parents here give readers a chance to look at their own parents in a different way, to maybe see their point of view.

Realistic portrayal of LGBT teens!!!
Some are born with rainbow flag in their hand, some need to find the right person, some need to listen to themselves. There are endless different possibilities, there are no rules and to many – accepting themselves as they are is the hardest part. The growth and development of characters was so beautifully portrayed.

I don´t know how to conclude this. This book is so real to life and you can´t conclude life, right?
It was a beautifully written coming-to-age story without being girly, sexual and lacking parents. The story flowed like a calm but curvy river and all you wanted to do was just lay there and look at the sky.
***
Check from the e-catalogue ESTER (book)
Check from the e-catalogue ESTER (audio)
Check from the OverDrive digital library
Mirjam Kaun
Head Specialist of Youth Service in Department Literature of Estonian