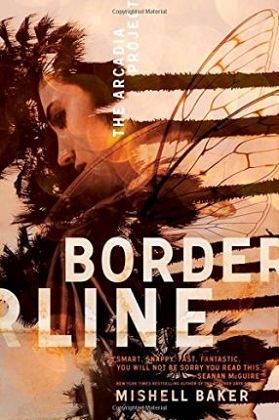 "The Arcadia Project", #1
A cynical, disabled film director with borderline personality disorder gets recruited to join a secret organization that oversees relations between Hollywood and Fairyland in this Nebula Award–nominated and Tiptree Award Honor Book that's the first novel in a new urban fantasy series from debut author Mishell Baker.
With that kind of description, I couldn't help but check out what that book was – and to be honest my hopes were not very high. Young Adult-oriented fantasy novels tend to make me a tad skeptical, and the portrayal of mental disorders tends to be either overly romanticized or on the opposite, shown as something horrible and villainous. And Fairyland…? You must be kidding me! Still, I decided to give it a try, and boy, was I pleasantly surprised.
The book's protagonist, Millie, is no damsel in distress, but she sure isn't an over-the-top, brave, warrior princess-like character either. A suicide survivor with a dry, cynical sense of humour and even more cynical view on life, she's believable and easy to sympathize with from page one. As the first book of the trilogy begins, she's being recruited to the mysterious Arcadia Project – a secret organization that monitors the traffic and relations between the human world (mostly Hollywood, for reasons, explained in the books), and a world parallel to ours, one filled with mythical fairy-tale creatures, the most prominent one being fey, or fairies. For her first assignment, Millie has to investigate the disappearance of a fey nobleman from the Seelie court. (According to Scottish folklore, the fairy court is divided into Seelie and Unseelie, and the author is actually relying on that mythology quite a lot, which, I think, is actually a nice touch).
The investigation takes Millie on an unusual adventure full of Hollywood glamour and strange creatures, unveiling the conspiracy that could start a war between human and non-human worlds. And if that wasn't enough, she has a war of her own going on inside her. We get to see the heroine learn to live with her disabilities and get stronger with every turn of the page, trying to save the world(s) while also saving herself.
Like with many books of similar genres, you do get your share of relationships and romance – but those are definitely not prominent storylines, nor are they cheesy and distracting.
What you get, is a sharp-witted, magical story with convincing, flawed characters, nail-biting excitement, dangerous situations, with a whole bunch of folklore thrown into the mix for good measure, resulting in a brilliant YA urban fantasy book, and leaving you curious as to what else Baker has in store for both the protagonist, and the reader.
Anna Kaare
Kännukuke branch library