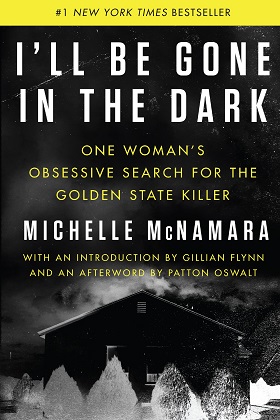 An old Estonian proverb says that a good child has many names. As does the wolf. In the Estonian language, this grey-haired animal, known for its greed and wickedness in traditional folk and fairy tales, has upwards of twenty different names. For centuries, it was considered taboo to simply utter "wolf" and so, alternative names and nicknames were invented. Similar sentiments are echoed in the English language. There aren't as many synonyms for the word itself but the meanings and associations are just as malignant. On the Thesaurus webpage, the word 'wolf' has an alternative meaning. It can refer to the act of consuming something sloppily and fast, devouring, gobbling it up, gorging on it. The word is also associated with such historical characters as Casanova, Don Juan and Lothario – all notorious womanizers and heartbreakers.
The wicked wolf in Michelle McNamara's book "I'll be Gone in the Dark" had many names over the years: Cordova Cat Burglar (suspected), Exeter Ransacker (suspected), Visalia Ransacker, East Area Rapist, Original Night Stalker, Golden State Killer and finally, after his capture in 2018 – Joseph James DeAngelo. No, he was not a good child by any stretch of the imagination. As early as 1973, he devoured lives, gorged himself on the fear of his victims and, all the while, saw himself as a womanizer, a bastardized version of Casanova. As he kept collecting forcefully taken notches on his belt, law enforcement officers in various Californian counties were trying to find this prolific rapist and murderer whose reign of terror almost dimmed the Californian sun itself. As described in the book, these efforts were futile for many different reasons.
Months turned into years and years turned into decades. Over time, many amateur sleuths took on the case, trying to solve the mystery and bring solace to so many victims and their families. One of these sleuths was Michelle McNamara. She looked into different older and newer unsolved crimes and described her findings and theories in her blog "True Crime Diary". The one case that consumed her thoughts, time and efforts the most, was the case of the wickedest of wolves – the Golden State Killer. Michelle's dedication, attention to detail and impressively researched and written blog posts gained her a large following and helped her foster close friendships with like-minded crime fighters.
Michelle decided to organize her research even more thoroughly and write a book about the case. It turned out to be a work of true crime brilliance. Page after page, we are taken on a dual journey. We travel with two protagonists at the same time – with the big bad wolf himself and with the huntress whose obsession saturates every sentence. During our journey, we are confronted with many tragedies that often, figuratively, rip our collective hearts out. The last of these tragedies was Michelle's early death at the age of 46 in 2016 – 2 years and 3 days before her prey was finally captured by law enforcement. She left this world without knowing the answer to a mystery that dominated her life for so many years. However, her book, which was finished by the time of her death, was published posthumously and has become almost mandatory reading for anyone who's truly interested in true crime. I would argue that it should be considered more than that – as an example of truly exceptional writing and research.
***
Harper Perennial, 2019
Check from the e-catalogue ESTER
Kristel Palk
Head of the Department of Literature in Foreign Languages