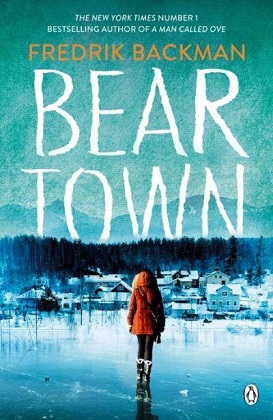 "Late one evening towards the end of March, a teenager picked up a double-barrelled shotgun, walked into the forest, put the gun to someone else's forehead, and pulled the trigger. This is the story of how we got there."
Beartown is an ice hockey town. The sport has become synonymous with the town. It puts bread on the table and is enjoyed by many. Beartown is also the town which never gets mentioned in comparison with other towns. It is made fun of and even the townspeople know it. One of the few things the town has and is proud of, is ice hockey. It is the sport that Beartown's boys take great pride in playing. Once you get on the team you "have made it". The same cannot be said about the girls. The girls are deemed only worthy of praising the boys, for cheering them on and being related to the players. Everybody knows this but no one is willing to do anything about it for the fear of being ridiculed and opposed. Beartown's residents however are tough, even the little girls and women. To survive the cold weather and freezing temperature one learns to rely on oneself. One wrong decision could cost a life in these circumstances.
Maya and Ana have been lifelong friends. Maya (15) likes to play the guitar and understands people, Ana on the other hand knows nature and has been trying to be normal and fit in recent times (much to the annoyance of Maya who wishes her old friend back). Maya's father Peter is an ice hockey coach and mother Kira a successful lawyer. Kira does not understand the commotion around ice hockey but tries her best to support her husband. Peter sometimes gets mad at Kira for her righteous and know-it-all behavior, he has enough power struggles at work over the leadership of teams. They moved to Beartown many years ago from Canada, Peter was born and raised here, he knows the town. The same cannot be said for Kira who is sometimes still to this day seen as an outsider. Their children Maya and Leo mean the world to them. Often as it is with children you cannot make their decisions for them.
Amat is the same age as Maya but lives in less fortunate circumstances. He lives with his mother who works as a cleaning lady in the building that surrounds the local ice skating rink. He is ashamed of her mother's job but with her language skill this is the best she could get. Amat has no social status and up until now has remained invisible to others. He has been skating ever since he was little. Amat has a dream – he wants to join the ice hockey team. He also has something that other boys his age lack: determination and perseverance. The local ice hockey hotshots Kevin and Benjamin have made it so far only thanks to connections, Amat believes. Kevin is rich and admired by all, Benjamin is his sidekick. Put together the whole school and team see them as leaders.
Ice hockey connects people but it also has the same power to divide them. One wrong act can destroy Beartown's future and the future of many people.
***
Penguin Books, 2018
Check from the e-catalogue ESTER
Check from the e-catalogue ESTER
Check from the OverDrive digital library
Birgit Kirsipuu
Sääse branch library