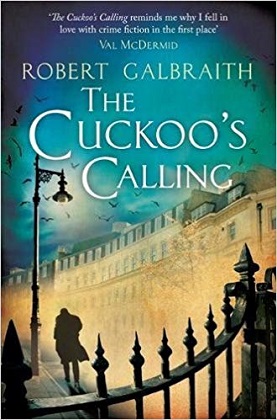 The main character is a financially struggling private detective, Cormoran Strike, an Afghanistan war veteran who lost his leg during his mission. He takes up a new case of investigating a suicide of a famous model, whose brother is convinced that she was murdered. Cormoran thinks it is a dead-end case, but in need of the money, he accepts it. He gets an unlikely ally in Robin, an intelligent young woman, who moves to London and comes to work for Strike through a temporary work agency. She finds her calling and is drawn into the dangerous life of a detective. The deeper their investigation goes, the more questions arise and there is more to the story than seemed at first.
Robert Galbraith is pseudonym of J.K. Rowling. You will not find any connection to the Harry Potter series, but you will not be disappointed if you enjoy a good detective story.
I was drawn into this dangerous world, and like other Rowling's books, you can not put the book down until the end of it. Great author, good writing, interesting storyline, plot twists, likable characters – can it get any better? Yes, it can! It is a 4 book series of detective stories.
***
Sphere, 2014
Check from the e-catalogue ESTER
Karin Raud
Department of Literature in Foreign Languages