As travelling is pretty difficult at the moment, this superb book provides 100 possibilities to spend time in Tallinn. This book is small enough to put it into your pocket and discover Tallinn with it. Every page has a nice photo about the sight to be seen. In order to discover Tallinn better, a map is provided at the end of the book.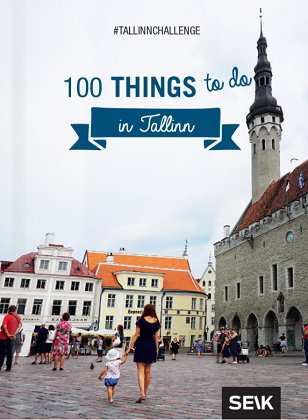 The book starts with finding a vane of Old Thomas at the top of the Tallinn Town Hall, wich is the oldest city hall in North-Europe and the only preserved one in Gothic style. From then on, you can find quite a wide array of places to see: where to eat, where to buy something nice, where to go to a concert, which Russian hairdresser to visit at Lasnamäe, how to find a monastery and, of course, where to spend some time in nature.
There are quite a few nature destinations. The Pääsküla bog, for example, where you can see rare birds and plant species. Another possibility to spend time in nature is to visit birdwatching towers in Paljassaare. There you can find a former military structure as well – the Katariina pier that was constructed as part of a battery of the Peter the Great sea fortress.
Every challenge has an electronic address as well. So there is quite a lot to discover via computer and on the route in Tallinn.
***
Seik, 2018
Check from the e-catalogue ESTER
Katrin Antonenko
Department of Literature in Foreign Languages