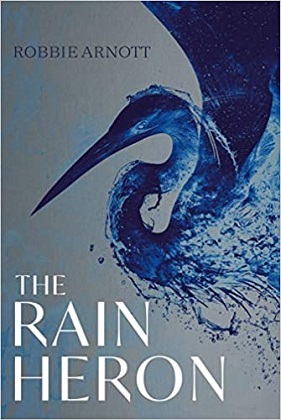 "The Rain Heron" is Robbie Arnott's second novel. The first one, "Flames", was shortlisted for the Victorian Premier's Literary Award for Fiction. Arnott is a great story-teller, his language is beautiful and he knows how to weave a plot to keep his reader thrilled up to the end. Little by little the pieces come together, and the whole picture emerges.
Each part of the book is focused on one of the main characters, Part 0 introducing the legendary creature – the blue heron, who can bring fortune or damage, and Part 4 being the solution of the story. In between we get intimately acquainted with three other characters. Still it seems to be a story of two women – Ren and Zoe, and their tangled relationship.
Although much beautiful descriptions are dedicated to the mythical creature – the rain heron, and the created myth itself is to be the foundation of the story, the deepest meaning remains vague, the novel remains beautifully visual. The deeper meaning gets lost somewhere – maybe the created myths are not still powerful enough. The strive back to nature is strong in the story, still we have to admit we are gone too far from the natural world. A kind of cruelty creeps silently, almost unnoticeably on the pages of the book. Maybe the created myths do not carry the power. The end is absolutely disappointing.
***
London: Atlantic Books, 2020
Check from the e-catalogue ESTER.
Check Robbie Arnott's first novel "Flames" from the e-catalogue ESTER.
Eha Elmi
Department of Literature in Foreign Languages