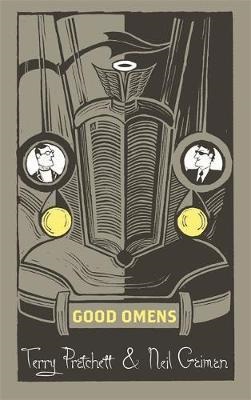 Angel Aziraphale and a demon Crowley grow accustomed to life on Earth and make a deal to prevent Apocalypse by working together. The plan is to be part of Antichrists' upbringing and influence him to balance the good and the bad in him.
But as the saying goes "Man plans, God laughs", everything goes wrong.
The plan is to switch Antichrist with America's diplomat's son, but on the same night another baby boy is born. Due to miscommunication in the hospital (a wink is not a good way to communicate as one would have thought) all three boys get mixed up.
As years go by, on the day of the 11th birthday of believed Antichrist, Aziraphale and Crowley realise that the boy they have been watching and influencing is not the Antichrist. The search begins to find the real Antichrist in hopes that they can stop the Apocalypse.
As Apocalypse is approaching, the Four Horsemen (War, Famine, Pollution and Death) are gathering and heading towards the real Antichrist.
To make matters more interesting, clumsy Anathema follows her ancestors' predictions (which are to tell the truth quite useless), also trying to put a stop to Apocalypse.
I enjoyed reading this book. Pratchett and Gaiman succeeded in turning a potential horror story into a comedy. Excellent co-writing. I have not yet enjoyed Pratchett's nor Gailman's own writings as much as "Good Omens". You can hear the tone of irony between the lines, which is also comforting, giving you hope that "it is not the end of the world", despite everything going wrong.
For full reading experience I recommended for Estonian readers to read this book in English, so nothing gets lost in translation, it is a risk you do not want to take.
***
London: Gollancz, 2013
Check from the Overdrive e-library: ebook, audiobook.
Check from the e-catalogue ESTER.
Karin Raud
Department of Literature in Foreign Languages