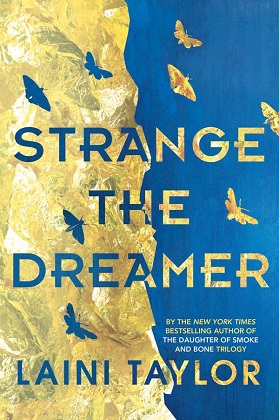 Laini Taylor has a way with words. It might not be for everyone´s taste but the quality is undeniable. She seems to weave the words together to create the magical story-cardigans. And oh how interesting and novel ideas and twists she always has.
Although previous Laini Taylor books have been bit slowly paced for my liking, "Strange the dreamer" is a magnificent work of art! Although I wish Sarai´s story would be also told by Strange, it made the story often repetitive.
But the story itself. So magical! So beautiful! Full of wonderous creatures and fairytales or should I say – dreams. It´s a story about a man who has a dream and it turns to be true. The guy who has forever been treated poorly for his dreams is suddenly necessary thanks to his knowledge.
The author always manages to show multiple sides of wars. How people hate the "monsters" and how the "monsters" hate them. But they do so only based on stories and some individuals hatred. Hate is a mighty poison that travels quickly.
***
Check from the e-catalogue ESTER ( Hodder & Stoughton, 2017)
Check from the e-catalogue ESTER ( Hodder & Stoughton, 2018)
Check from the OverDrive digital library
Mirjam Kaun
Head Specialist of Youth Service in Department Literature of Estonian