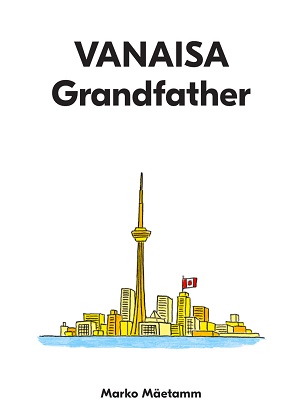 This book is an excursion into the world of things. In his short stories the author Marko Mäetamm (born in 1965) who is better known for his works as a multimedia artist, tells from the perspective of a 13 year old schoolboy what it felt like to live in Karksi-Nuia, a small town in Southern Estonia, in the Soviet era.
The author gives a detailed description about different goods that were sent to him by his grandfather who was living in Canada at that time. All the presents that he received from abroad seemed to be very cool, even luxurious. Marko was very proud of the random pop-trash goods he got from Canada: a golden anchor, a cow cream pitcher, an AIWA cassette player, magazines "Mammals" and "Fish", an Ottawa beer mug, a wooden lion, chewing gums, artificial nails, a department store catalogue, faded jeans with a high waist, etc.
With his good sense of humour the author manages to create in a way tragicomical and absurd, yet truthful picture about everyday life in the Soviet era, about the shortage of goods, cult of foreign things and about the desire for exotic western life.
***
Illustrations by Marko Mäetamm
;paranoia, 2019
Parallel texts in Estonian and in English
Translation into English: Riina Kindlam
Check from the e-catalogue ESTER
Kadi Eslon
Department of Literature in Foreign Languages