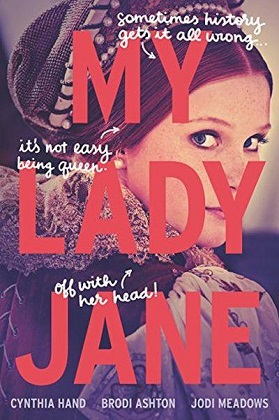 Thrilling, creative and absolutely hilarious twist on history.

It's easy to make the reader cry. Specially if the reader is as emotional as me. But to make the reader laugh? That's a whole different level and this book achieved it so many times.

I knew nothing about Lady Jane Grey before that book. I can't say that I know much more now besides the fact she existed. But I'm utterly in love with her.
She is a total booknerd and is about to marry to a guy who is about to marry a horse! And on the top of that the king of England needs to find an heir cause he is dying but all he wants is to plan his first kiss. As you can see – lot's of drama and fun twists.

"My Lady Jane" gives the history a new twist. Showing politics from a different (fantasy induced) point of view. And how moronic it seems to look at it that way. But the authors also give a new and happy ending to a commonly known sad story.
***
HarperTeen, 2017
Check from the e-catalogue ESTER
Check from the OverDrive digital library
Mirjam Kaun
Head Specialist of Youth Service in Department Literature of Estonian