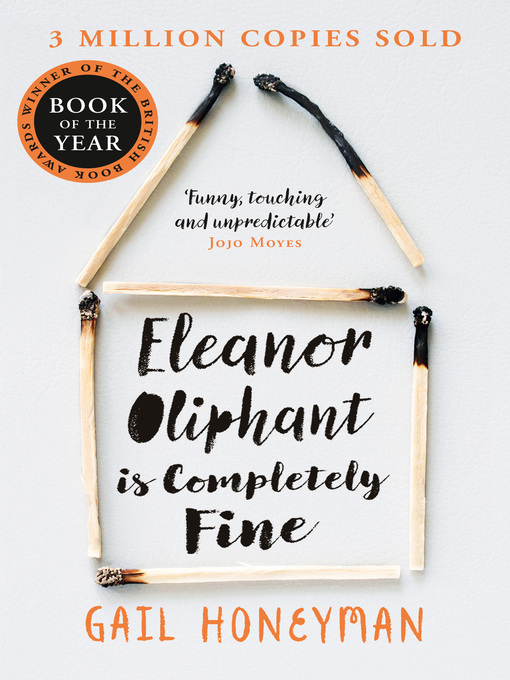 Gail Honeyman's debut novel "Eleanor Oliphant is Completely Fine" has won the 2017 Costa First Novel Award and garnered several positive reviews since. It is a cleverly written piece that speaks of human emotions and connections, friendships, trauma, isolation as well as denial and healing.
The book revolves around the life of a 29 year old Eleanor Oliphant, a finance clerk at a graphic design company in Glasgow, Scotland. She is a social misfit who does everything by the routine that avoids social situations/interactions as much as possible. "There was, it seemed, no Eleanor-shaped social hole for me to slot." Her weekends were dedicated to frozen pizzas, bottles of vodka and conversations with her mummy. Having been raised in a few foster-cares, she leads a solitary life and seems quite content with it. Describing herself as "absolutely fine", Eleanor is quite condescending towards others. She is academically good, enjoys doing crosswords during her lunch breaks and doesn't pay much or any attention to her appearance. While on a pursuit to find and connect with her crush, a local singer Johnnie, her life takes a turn for good when she gets acquainted with Raymond, a character quite contrasting to her.
Through a series of events, the reader learns of her trauma and witnesses her character growth. 
"I'm Fine" comes out as a standard response when anyone asks "How are you?" even when one might be anything but Fine. I reckon we are conditioned to not speak of the battles that rage in our heads and to put on a brave, happy facade that everything is absolutely, completely fine. The novel reflects on this aspect through the absolutely fine life of Eleanor Oliphant. Honeyman has craftily created the character that will resonate with the reader at one point or the other.
In the initial chapters, I'd often find myself asking why was I even reading it. The protagonist is mean, rude, inconsiderate, disrespectful and outright judgmental. Yet, I kept on turning the page to find out what happens in her life and as I read on, I began to understand Eleanor, as well as myself, were far away from "fine."
I found myself rooting for her changes and wishing for her to get better. By the end of the book, I'd laughed, wept, experienced the weight of her sadness, felt the loss and found a ray of hope for her as well.
London : HarperCollins, 2017, 2018
Check from e-catalogue ESTER.
Check from e-library OverDrive.
Devika Tawniya
Volunteer in the Department of Literature in Foreign Languages